Calgary Basement Renovations
Calgary is unique for several reasons. For decades it has been growing in population as well as in size. The economy, geography and mixed cultural atmosphere support a wide range of lifestyles that draw in people from all over the world. New suburban communities are constantly under development and existing communities are being upgraded to support the growth. Homes are often customized to support the lifestyle of their families, and basement renovations are often a key component of the customization. We are excited to share some popular basement renovation ideas and some of our favorite customizations.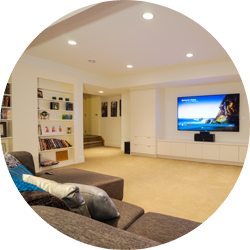 What home is complete without a TV room? Nothing beats family movie nights, watching "the game", and binge-watching Netflix in the comfort of your own home. The key to a comfortable TV room is open space. The proper balancing of furniture within the TV room depends on the preferences of the homeowner. Many basement renovations maintain an open design with strategic furniture placement to naturally cordon a designated TV area.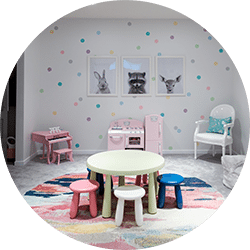 A play space is often the starting point in basement renovations when it comes to young families. This space houses all of the toys and nick-nacks that children will be playing with throughout their younger years. Having a designated play space helps keep any mess or clutter out of the rest of the house and it makes cleaning up a lot easier. As the family grows the needs will change and the space will evolve.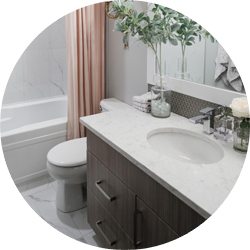 Once you experience the convenience of a basement level bathroom you will never go back. Many homes in Calgary are built with undeveloped basements and some rough plumbing where a bathroom can be tied-in. 3-piece bathrooms including a toilet, sink, and shower are very common in basements, although the actual size and footprint of the bathroom will depend on the use of the basement (ie. are there bedrooms?).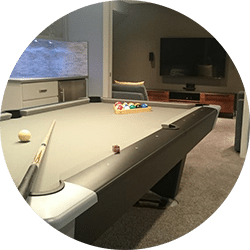 Good for entertaining guests or for some family fun. Entertainment or games rooms add an extra element of fun to your home. Pool tables are popular, but we have also seen ping-pong, fuse-ball, air-hockey, and even some pinball or classic arcade games. You can create a separate room or allocate some open space for any of these items. Just make sure to plan the space based on the size of your desired game (ie. full-size pool table) at the beginning of the basement renovation rather than trying to incorporate something afterwards.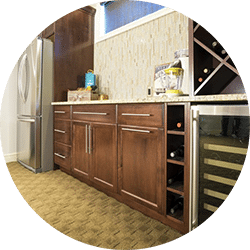 Refreshments make everything better. Whatever you are doing and whoever you are with, cold drinks and light snacks will enhance the experience. A wet-bar can be as elaborate or as simple as you want it to be. Common elements include a sink, a fridge or mini-fridge, a wine rack, a wine cooler, a microwave or mini-oven, and some storage. Important considerations for a wet-bar in your basement renovations include plumbing and electrical requirements, appliance specifications and of course an attractive design.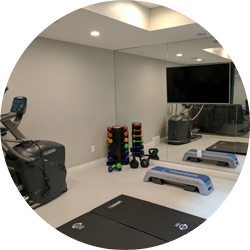 Calgary basements are often the coolest part of the house. This makes them an ideal location for some exercise or a workout in your very own gym. A home gym area is usually designed to withstand the additional wear-and-tear caused from gym equipment and intense workouts. Design your own circuit and design the space to include your favorite machines. The only down side to a home gym is that there is no longer any excuses for not going to the gym.